Crown Point wrestler and three time IHSAA State Champion Jesse Mendez added to his long list of accomplishments on the mat, winning the UWW Junior National Championships last weekend.
"It's definitely something I've had on my bucket list," Mendez said about his milestone win. "Hopefully it will be a stepping stone to bringing home gold. Being the best is my ultimate goal."
As part of his victory, Mendez went toe-to-toe with a pair of wrestlers that he is very familiar with in Carter Young from Oklahoma and Dominik Serrano from Nebraska.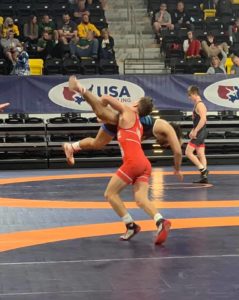 "I've actually known Carter and Dom for a long time," Mendez said. "We all wrestled on the Pan American Team when I was in the sixth grade, so to wrestle Dom in the semis and the Carter in the Finals felt really cool."
In a best of three match series against Young in the championship round, Mendez dominated, sweeping the series with two straight wins. He started the series by winning the first match by fall halfway through the first period. He then followed up that performance with a technical fall in the second, and deciding, match. His dominance earned him the tournament's Most Outstanding Wrestler Award.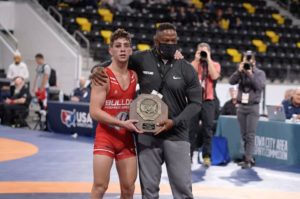 "It's just humbling that I showed enough dominance to win the Most Outstanding Wrestler," Mendez said.
Mendez will compete this summer with Team USA in Russia for a chance at winning a Junior World Championship at 61kg, and he knows there's more work to do.
"I'm going to heal up and just get ready for worlds," Mendez said of his spring and summer plans. "Work on my technique, there are a few things I need to clean up but I will be ready."